Putting our hEDS together: hypermobile Ehlers-Danlos Syndrome (hEDS) and Hypermobility Spectrum Disorders (HSD) in the context of childbearing
Funder: RECAP, Coventry University
Project Team
Dr Gemma Pearce: Principal Investigator, Chartered Psychologist, researcher and lecturer @GemmaSPearce
Dr Sally Pezaro: Co-applicant, academic midwife, researcher and lecturer @SallyPezaro
Dr Emma Reinhold: Co-applicant, EDS advisor for Royal College of General Practitioners and GP advisor for Ehlers-Danlos Society. @DrEReinhold
Lauren Purdy: Masters student in Health Psychology @Laurenpurdy
Paul Magee: Senior Designer @Paul_IDTU
Partners:
Ehlers-Danlos Support UK (EDS UK)
Hypermobility Syndromes Association (HMSA)
Royal College of Obstetricians and Gynaecologists (RCOG)
Project Objectives
Prior to this funded project, we carried out a review to inform care considerations in maternity care for people with hEDS/HSD. This work won an impact award from Global Emerald Publishing for the difference it has already started to make to maternity care.
We have completed a qualitative study and the publication is currently under review for publication so watch this space! To find out more about our research journey and why we are doing this research, see this short clip.
The aims of the study are 3-fold:
1. Carry out surveys –
· Examining the experience of healthcare for women with hEDS/HSD. This survey is now closed
· Examining the experience of healthcare professionals delivering care to childbearing women. This survey is now closed
· We did a public poll about what should be included in these surveys, click here to see the outcomes of this poll.
2. Carry out public engagement
3. Carry out co-creation of useful tools
· We have ethical approval to co-create useful public and professional tools. This work is currently underway.
Impact Statement
This project will build on the existing evidence base by providing further numerical evidence about women's childbearing experiences with hEDS/HSD, and identify strengths and gaps in maternity care staff knowledge. Therefore, the main demonstrable impacts from this knowledge mobilisation project are:
· Improving women's understanding of their condition and empowering them to make decisions about their childbearing.
· Improving the knowledge of maternity care staff about hEDS/HSD, how to recognise and facilitate diagnosis in women that have not been diagnosed, and how to support women that have been diagnosed.
· Improving the evidence-base on hEDS/HSD and childbearing to provide third sector organisations with greater impetus to develop guidelines and provide education on this topic to maternity care staff and other healthcare professionals (therefore also potentially having an economic benefit).
List of outputs:
· Developed #EDSmaternity network · Talks to professionals, academics and the public
· Publication with results of the two surveys.
· Co-created tools and publication about this co-creation.
---
On the 5th of May (International Day of the Midwife – #IDM2020) 2020 – The year of the nurse and the midwife, the @hEDStogether team launched new educational tools to support childbearing with hypermobile Ehlers Danlos Syndrome (hEDS) and Hypermobility Spectrum Disorders (HSD). Co-incidentally, May is also Ehlers Danlos Syndromes and Hypermobility Spectrum Disorders awareness month. You can view the online launch of these tools along with our other @GOLDMidwifery presentations here at the GOLD Online Education Midwifery Conference 2019/2020.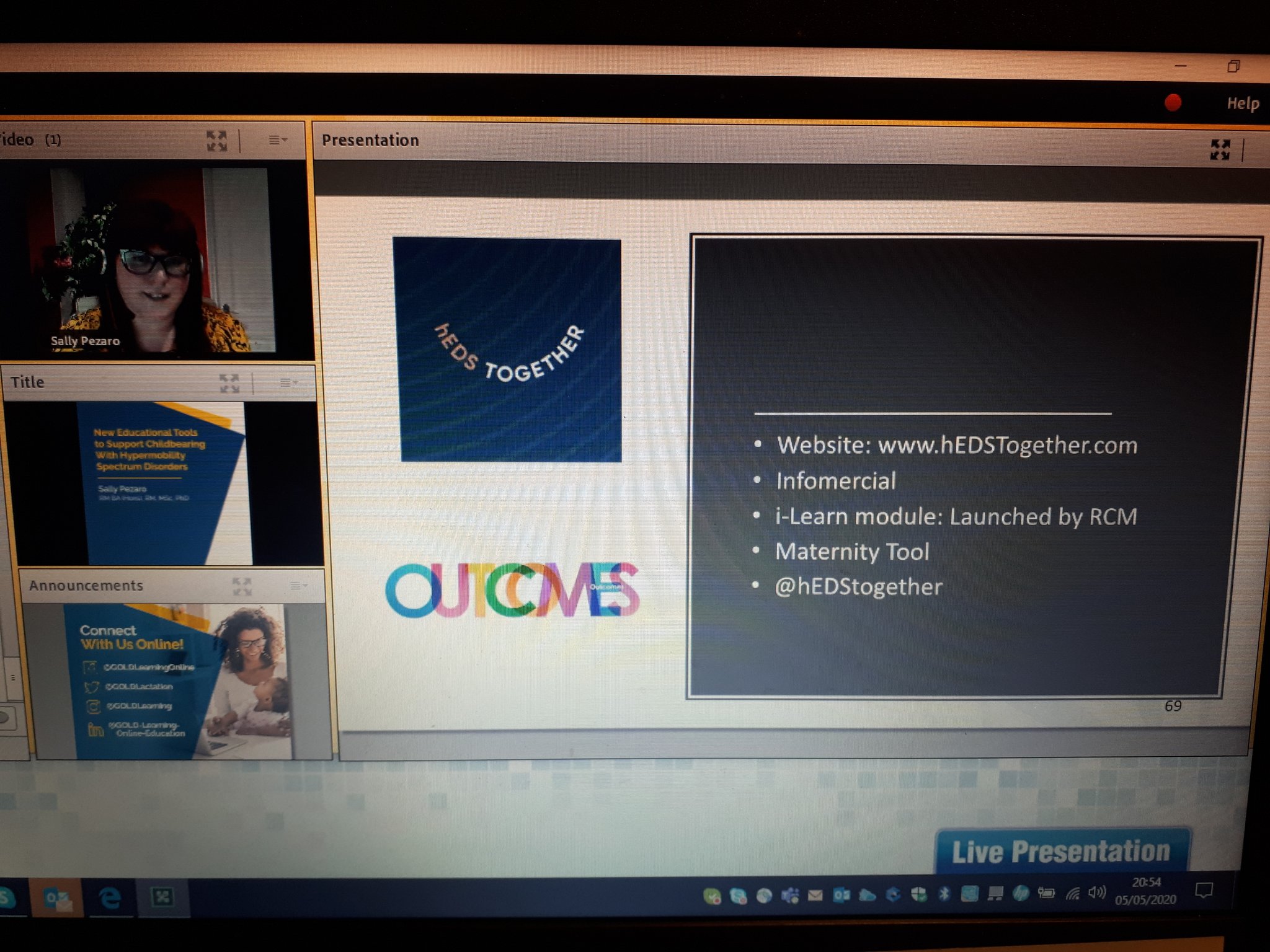 Citation: Pezaro, S., Pearce, G., & Magee, P. (2020). New Educational Tools to Support Childbearing With hypermobile Ehlers-Danlos syndrome and Hypermobility Spectrum Disorders. GOLD Online Midwifery Conference. May 5th.https://www.goldlearning.com/ce-library/all-lectures/new-educational-tools-detail
The final tools comprised:
An i-learn module launched by the Royal College of Midwives to their members (search under the letter 'H' for hypermobility in the online library)
A maternity tool freely available for download and wider use
An infomercial to raise awareness and mobilise knowledge in relation childbearing with hEDS/HSD
We were also able to launch our own website – hEDSTogether.com and keep everyone up to date with the project via @hEDStogether
We have made these tools freely available where possible. You can visit the project page to learn more. If you are using them to create an impact in the world, please tell us about it via the contact pages hosted at hEDSTogether.com.
Useful hashtags to follow on this topic include:
Thanks to everyone who joined us for the launch and co-created these tools in partnership with us!…Let's keep putting our #hEDSTogether via research!
Follow me via @SallyPezaro; The Academic Midwife; This blog
Until next time…Look after yourselves and each other 💚💙💜❤