Seminars held by the worlds top universities generally present the most up to date and respected ideas in relation to conducting research. Recently, I was lucky enough to attend a conference where several seminars were held over a one week period…How very convenient!…These seminars in combination were able to map out a broad blue print of how to conduct research for their audiences (myself and other chums).
As a result of attending these wonderful seminars, I am now able to translate what was shared into this dummy's guide to conducting research. I write here not only to refresh my own knowledge in this area, but also in the hope that it may be of use to the readers of this post. Wish me luck!…
So why do we do research?…Because we have an idea?, a problem to solve?, or an area where a lack of knowledge resides?..(See #whywedoresearch) …These are all valid reasons to conduct research within reason, but…What is research?…
OK, so we need to define a research question…What question, need or idea are we trying to answer?..What itch do we have to scratch? We need to formulate a research question….and also formulate a research problem.
How to formulate a research problem
Explore the nature of the problem. Why is it a problem?..who does it affect?
Explore the context of the research problem. Where does it 'sit' among other things?
Define your variables. What would vary?…what can't you control?…what would be the impact of that?
Think about what would happen if you didn't address this problem. What would be the consequences of doing something else?
Define your objectives? What are you trying to achieve by doing this research?
How to formulate a research question
Think first…is your research question:
Interesting
Relevant
Focused
Answerable
Then…narrow your ideas down to develop a great research question.
Broad topic
 Narrowed topic  
   Focused topic  
Research Question
Children's
health →
 Children and diabetes →
School meals and sugar content→
Is there an association between sugar content in school meals and diabetes risk?
Walking →
Walking related injury →
Walking related injury and
adults→
How does Walking related injury affect
adults?
Bullying →
Teenagers and
bullying →
Teen peer
pressure and aggressive behavior→
What role, if any, does
peer pressure play in the development of aggressive behavior
among teens?
                                          
Non directional hypothesis = Pregnant women will experience some change in their pattern of urination.
Directional hypothesis = Pregnant women will urinate less frequently.
Null hypothesis = A statistical assumption. e.g: There will be no difference in the frequency of urination for pregnant women who swim compared with those who do not swim.
And to test this theory…..(quasi-experimental or experimental study design)..we must ascertain the relationship between variables.
Components
Experimental group = Pregnant women swimming
Expected result = e.g Pregnant women will urinate less frequently
Comparison group = Pregnant women who do not swim

Quantitative and qualitative research characteristics….
Characteristic
Quantitative research
Qualitative research
Philosophical origin
Logical positivism
Naturalistic/Interpretive
Focus

Reasoning

Concise and objective
Broad and objective
Reasoning
Logistic and deductive
Dialectic and inductive
Basis of knowing
Cause and effect relationships
Meaning, discovery and understanding
Theoretical focus
Tests theory
Develops theory
Researcher involvement
Control
Shared interpretations
Methods of measurement
Structured interviews, questionnaires, observations, scales or measurements
Unstructured interviews and observations
Data
Numbers
Words
Analysis
Statistical analysis
Individual interpretations
Findings
Generalisation, accept or reject theoretical propositions
Uniqueness, understanding of new phenomena and/or theory
Image source and further reading = Crowe, Michael, and Lorraine Sheppard. "Qualitative and quantitative research designs are more similar than different." Internet Journal of Allied Health Sciences and Practice 8.4 (2010): 5.
| | |
| --- | --- |
| Quantitative data analysis methods | Qualitative data analysis methods |
| Involve statistics/number analysis | Text analysis |
| Seek deductive interences | Seek inductive inferences |
| Focus on quantifiable phenomena (comparisons, differences, trends and relationships) | Focus on meanings (themes) |
| Involve data clustering analysis for relationships in non-hypothesis testing | Involve data structuring and coding into themes and groups. |
| Involve systematic predetermined analysis | Involve in-depth fluid analysis |
| Value-free enquiry | Considers the impact a researcher may have on others' values |
| Objective | Subjective |
| Narrow and specific | General and broad |
Variable = Anything that varies
Independent variable = does not depend on that of another. Can be introduced or withdrawn by the researcher
Dependent variable = Depends on the independent variables and it's out come variable e.g: Trauma, bleeding, symptom changes.
Extraneous variable = Unwanted influence that may interfere with either the dependent and/or independent variables.
Demographic variable = Age, gender, race etc.
Top tips:
We can ask..'What is the relationship between two or more variables?' However, we cannot infer 'cause and effect'.
Experimental study designed (hypothesis testing) is considered to be the 'Gold standard' for evidence. However, you can gather a multitude of this type of evidence via systematic review and/or meta analysis (See more information on these here or in the image below).
Ethical considerations should be revisited throughout the study, as well as before commencement.
Take control of any extraneous variables by random sampling (from a larger sample base), random assignment (into either a control or experimental group), selecting a homogeneous (similar on an important variable) sample and by matching the control to the experimental group on important variables.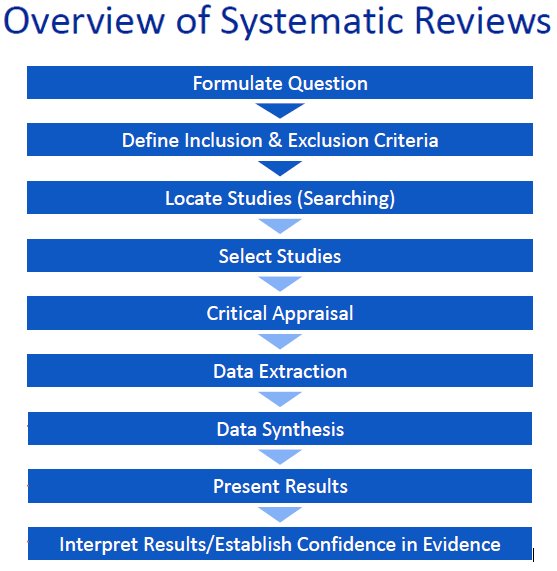 In conducting a systematic review, you can also arrive at new research problems and questions…meaning that the possibilities of conducting research are endless!..
But why do all of this hard work if you are not going to share what you have found, analysed, discussed and then concluded?
It is important to publish and share your work at both a high and low level, so that new knowledge is available to everyone!…Students and professors alike should publish. It is never too soon or early in your career to get started on this. If you are not confident about writing or publishing your work, contact me and I will be happy to partner with you throughout the process.
Not sure how to do this?…see my post…'Why Midwifery and Nursing Students Should Publish their Work and How' for further info.
If you would like to follow the progress of my work going forward..
Follow me via @SallyPezaro; The Academic Midwife; This blog
Until next time…Look after yourselves and each other 💚💙💜❤